Butt Plug
Regular price
$54.99 CAD
Sale price
$43.99 CAD
Unit price
per
Save $11
Not Available
---
✓
Free and
discreet
shipping
✓
Ethically made in Germany
✓
5-year warranty
---
Put some bounce in your butt
Weighted inner balls bump and roll when you move
Try the butt plug during partner sex or spanking
Tapered tip for easy insertion
Base designed to fit perfectly between your cheeks
A unique plug for the ass that has everything 
Product Specs

SPECIFICATION
VALUE / DESCRIPTION

 Type

Butt Plug

Dimensions

4.96 in and Ø 1.26-1.42 in

Insertable length: 4.72 in

Weight

0.20 lb

Materials

Body-safe materials, non-porous and hypoallergenic
Shipping

FUN FACTORY CANADA Ships with Canada Post. Orders go out at 2PM PST time. If you place your order through the week before 2PM we will try our hardest to send it out that day.

Canada Post does not process orders over the weekend. Therefore orders placed on Friday after 3PM until Sunday 12:00AM will go out on Monday when Canada Post starts processing orders again.

$9.99 Shipping on all orders under $39.99
FREE Shipping on orders over $39.99
Shipped with Canada Post

For more information, check the Shipping Information page.
Share
View full details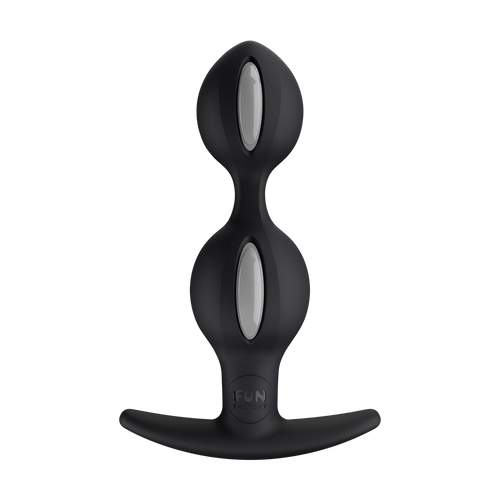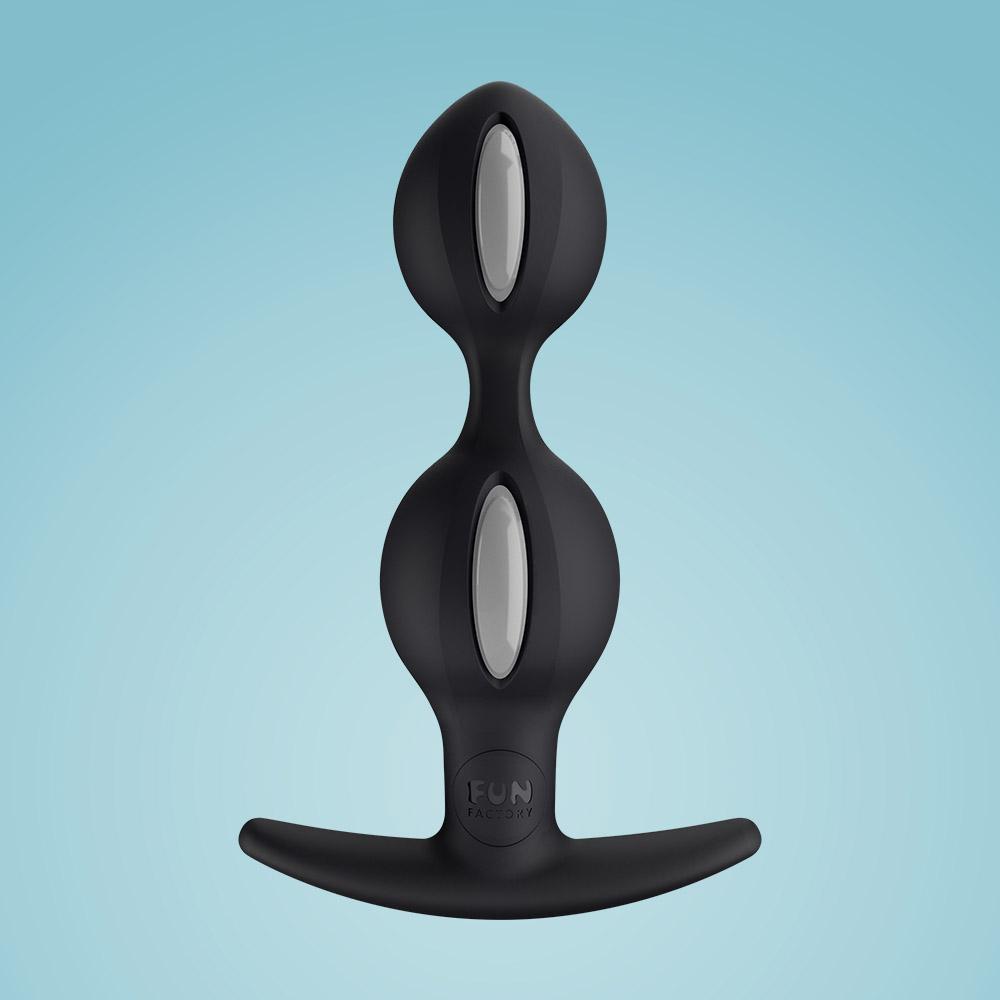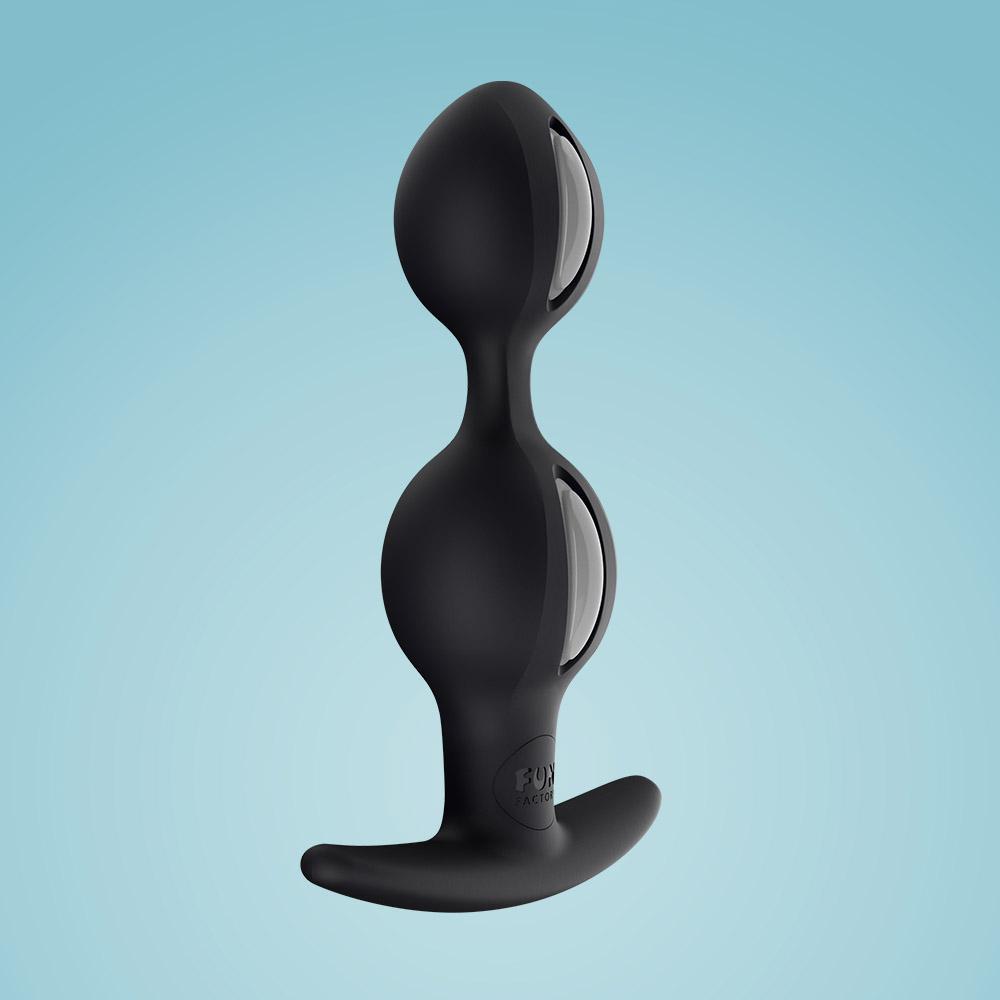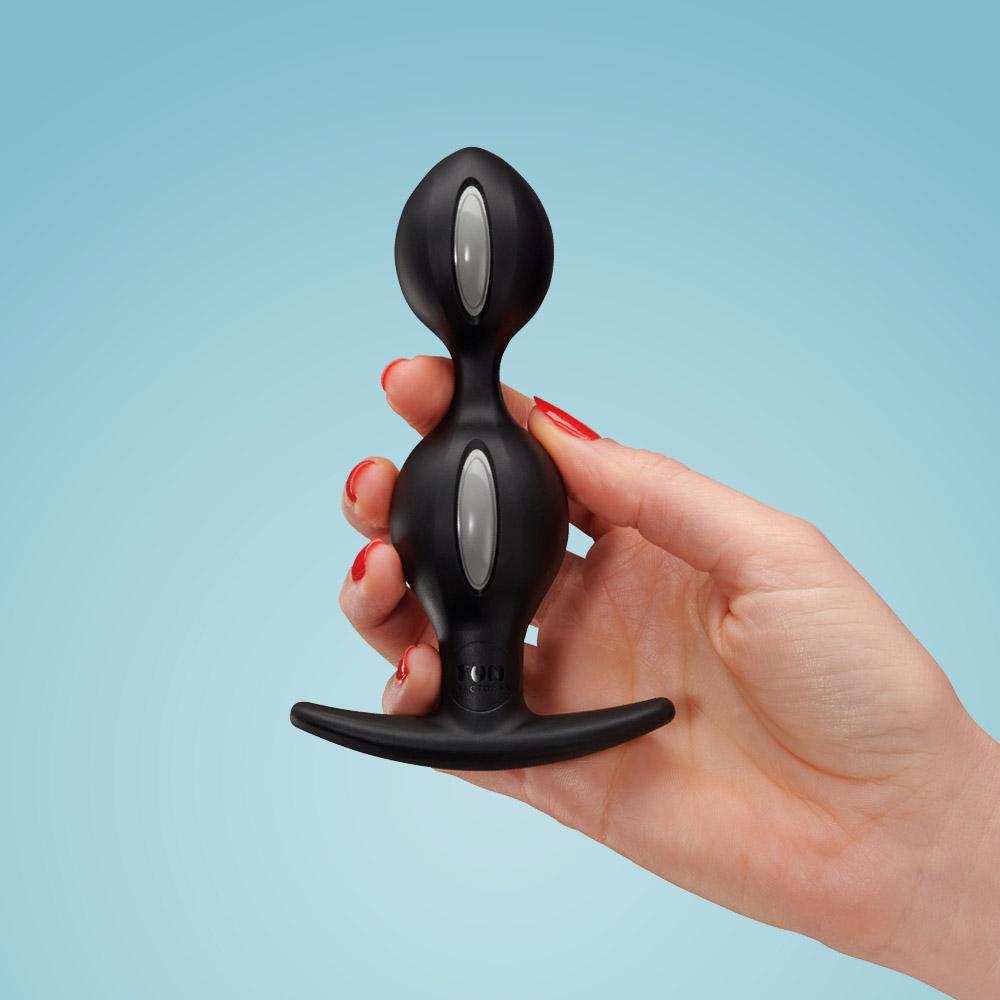 PERFECT BUTT PLUG FOR PARTNER SEX
Two weighted balls—one inside each round chamber—let you enjoy bouncing and rolling sensations unlike what any other butt plug has to offer!
WHAT MAKES THIS WEIGHTED BUTT PLUG SPECIAL?
Your movement controls the motion of the inner balls: when you're bouncing up and down, so are they. When you're rocking back and forth, they're rolling with your motion. (You can see some obvious applications for this, right? Our favorites include spiced-up spanking and holding a vibrator against the base.) Whether you're looking to add some anal training to partner sex, make solo play extra special, or just walk around with a little secret, B BALLS DUO are dynamic, discreet, and completely unique.
IS THIS A GOOD BUTT PLUG FOR SEX?
Heck yes! It's extra fun when there's more movement involved, so pop them in before your next highly athletic sex session.If you're doing the thrusting, you get a steady rumble going that gets more intense the faster you thrust. If you're not, try climbing on top of your partner to control the motion of the balls for yourself!
ARE THEY EASY TO PUT IN? EASY TO CLEAN?
A tapered tip makes B BALLS DUO easy to insert, and the completely non-porous material makes them simple to clean and even safe to share! If you are looking for something smaller to get you started, check out the B BALL UNO.
DOES WEARING THE B BALLS DUO HAVE A HEALTH BENEFIT?
Yes! Do your anal Kegel exercises while you're wearing the weighted butt plug for pelvic floor strengthening benefits, like increased sexual wellness, incontinence prevention, and of course, bigger orgasms.
Great purchase
I had a blast using this. The toy was able to hit my prostate a couple of times and I def enjoyed that. The only reason why it's not a 5-star is that some of the creases on the toy make it harder to clean. I was bouncing around a lot and having fun with the sensations too. Maximized my orgasm intensely.
High quality and comfortable
I'd recommend this plug as a solid, high-quality option overall. It's been comfortable enough to wear for 30-90 minutes, but I think I need to find a better lube (or a glass or metal plug) if I'm going to try any longer than that. The balls rumbling around when I move is petty subtle, more of a reminder that it's in rather than being super stimulating. It's not the most exciting toy, but I've always had good experiences with Fun Factory products and this one didn't disappoint.
Awesome
Fun - easy - exploding stars filled finale!
Fun and distracting
If you liked the uno you'll LOVE this! The weighted balls that move give such and amazing sensation. Great toy to wear if you're going to up and moving around. Definitely enhances fun time activities!