Bendable Dildo
Regular price
$99.99 CAD
Sale price
$79.99 CAD
Unit price
per
THREE SIZES
Save $16
Not Available
---
✓
Free and
discreet
shipping
✓
Ethically made in Germany
✓
5-year warranty
---
A bendable Dildo for everybody
A customizable dildo with a poseable shaft
Bend it to hit the G-spot or prostate
Makes position changes easier during strap-on play
Slim shaft and tapered tip—great for pegging
Suctions to flat, smooth surfaces
Choose between the small and medium sizes
Product Specs

SPECIFICATION
VALUE / DESCRIPTION

Type

Dildo

Dimensions

S: 4.7 in, Ø 1.1 in

Insertable length: 4.33 in

M: 6.8 in, Ø 1.2 in

Insertable length: 6.69 in

L: 7.1 in, Ø 1.6 in

Weight

S: 4 oz

M: 5.9 oz

L: 8.3 oz

Materials

Body-safe materials, non-porous and hypoallergenic

SKU

S (Caribbean Blue): 20000

M (Deep sea Blue): 20001

L (Velvet Blue): 20003
Shipping

FUN FACTORY CANADA Ships with Canada Post. Orders go out at 2PM PST time. If you place your order through the week before 2PM we will try our hardest to send it out that day.

Canada Post does not process orders over the weekend. Therefore orders placed on Friday after 3PM until Sunday 12:00AM will go out on Monday when Canada Post starts processing orders again.

$9.99 Shipping on all orders under $39.99
FREE Shipping on orders over $39.99
Shipped with Canada Post

For more information, check the Shipping Information page.
Share
View full details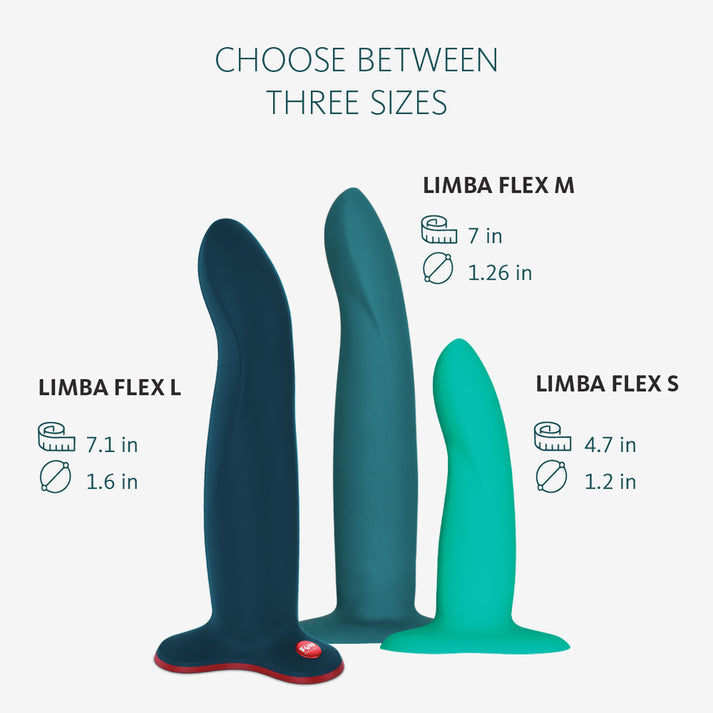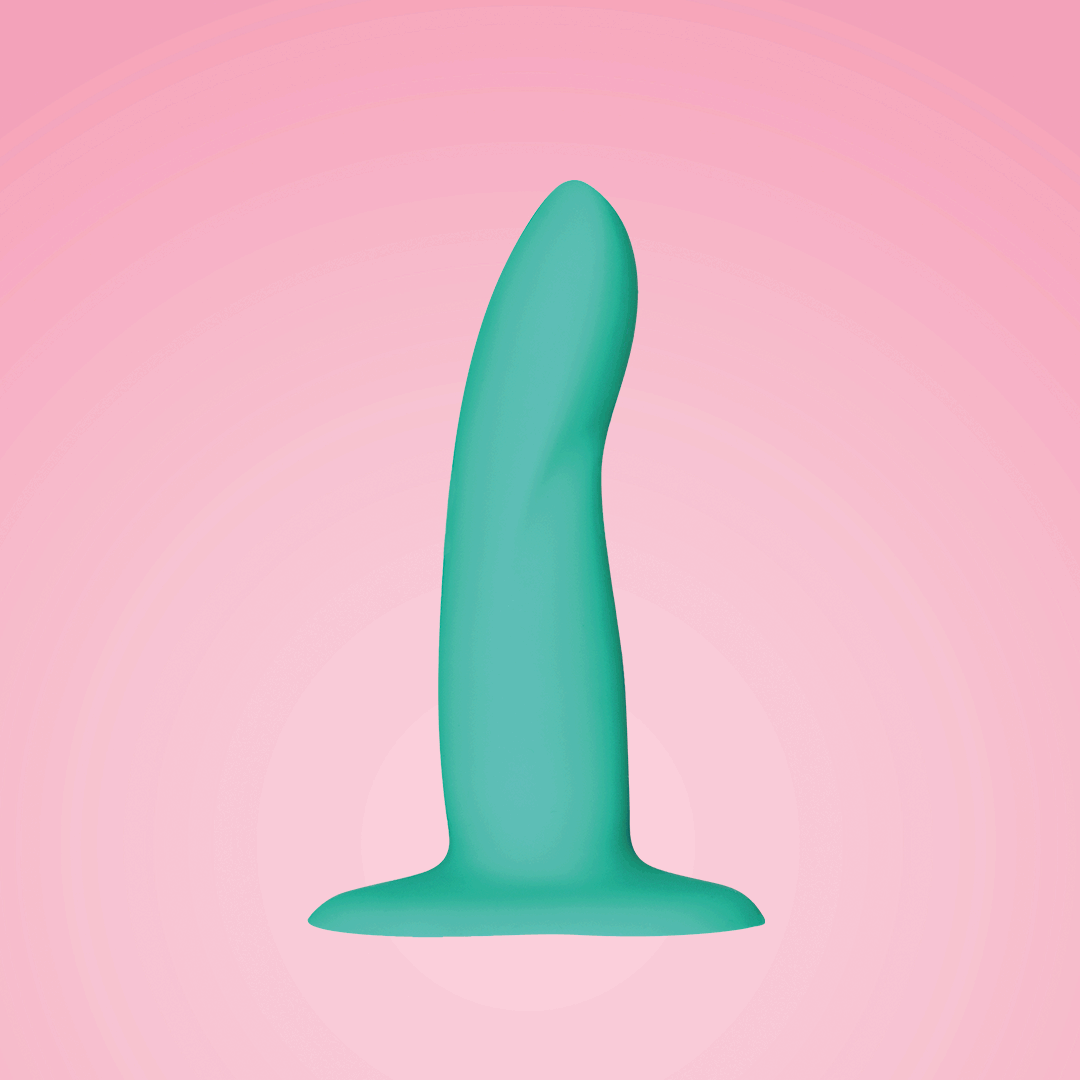 CUSTOMIZE YOUR FUN
We know that variety is part of great sex. We know that every body is different. That's why we made dildos with a bendable wire inside to flex into any preferred angle – and stay there.
Shouldn't you be able to customize your sex toys, too?
A CUSTOMIZABLE DILDO
Every body is different, and so is every time you have sex. That's why the LIMBA FLEX bends to hold a variety of shapes and angles—so you can hit the spot for any body, in any position.
WHAT MAKES THIS BENDABLE DILDO SPECIAL?
Buying toys can be a guessing game: you try to figure out what shape your body will like the best without trying it first. The LIMBA FLEX takes the guesswork out of it. If you discover you want a dildo with an extreme G-spot curve, just bend it into that shape. If you want a straight shaft, just bend it back. This customizable dildo makes it easy to try lots of different positions and ways to play without switching out your toys.
It's also a great packing dildo! Just bend the LIMBA FLEX so it fits under your clothes, then pull it out when you're ready to play!
I WANT TO TRY ANAL PLAY! IS THE LIMBA FLEX GOOD FOR PEGGING?
Heck yes! One of the top concerns we hear from first-time anal players is whether putting a toy in their butt will be uncomfortable. We hear that! The LIMBA FLEX is shaped to make insertion easy and comfy. The tip is tapered, so that, with lube, this dildo will slide right in. The shaft is also on the slim side, so you get to enjoy a feeling of fullness while staying in your comfort zone. Oh, and if you want to try prostate play, just bend the shaft toward the receiver's belly button.
DOES IT REALLY STAY IN POSITION?
Yup! The firm wire in this customizable dildo's core keeps it in the shape you choose until you're ready to bend it into another.
WHAT MAKES THIS BENDABLE DILDO GOOD FOR HARNESS USE?
One special feature of this dildo is its super thin base, which lets you get closer than ever to your partner during strap-on play.
HOW DO I KNOW IF I WANT THE SMALL OR MEDIUM SIZE LIMBA FLEX?
Do you prefer thrusting or grinding? Thanks to its shorter shaft, the LIMBA FLEX S is perfect for riding your toy, especially while you grind against a partner who's strapped it on. The longer LIMBA FLEX M is awesome for thrusting. If you're strapping it on, it also gives you greater control and makes it easier to change positions. LIMBA FLEX L is the most desired size. It's only a little longer than LIMBA FLEX M, but significantly girthier, for an amazing feeling of fullness.
BEHIND THE DESIGN
LIMBA FLEX L is the newest addition to our line of adjustable dildos, and it features some exciting new details. The bold red base marks our excellent craftsmanship—as always, the toy is hand-finished in our German factory.  
You'll both see and feel the quality in LIMBA FLEX L. It's a toy for design lovers and adventurous players, made ethically in Germany.
This is fantastic
I had been looking for something to stimulate my prostate and omg this is it. We had used a number of other toys, but none of them were smooth like the limbs flex. I got the medium one and it is perfect.
Expected more
(Ordered the medium)The actual quality of the dildo is good, but the design is not my favorite, the head is too thin and the dildo itself is not as thick as I wished it was, it is as thick as my own dick but I wish it was thicker, and the dildo itself is very smooth, so it doesn't give me the pleasure I wish I got, the tip is sharp so if I try to deepthroat it it can hurt my throat, the wire thing is good and the suction cup is good if you use in the shower and put water on the suction cup (use a smooth surface)(be careful because if you stick it how I sticked it it holds on PRETTY well so be carefull that you don't break anything when trying to get it off) but it would've been nicer if the head was a little bit more aggressive and a little less sharp.
Wow! Is all I can say.
I finally decided I not only wanted, but, needed a dildo. I loved the idea of being able the change the shape of the Limba Flex to whatever I was in the mood for. I got the medium, and when I first opened it I was a little underwhelmed. It had less girth than what I was expecting but hey, let's do this. Super comfortable, flexes the way you want it, and gets the job done. I'm beyond impressed and am excited to have it in my repertoire.
Peg Perfect
From the first time I used the Limba Flex, I knew this was going to be one of my go-to toys for pegging due to its customizable shape, velvety soft silicone, and harness friendly design. A+!