Prostate Vibrator
Regular price
$107.99 CAD
Regular price
$134.99 CAD
Sale price
$107.99 CAD
Unit price
per
Save $27
Not Available
---
✓
Free and
discreet
shipping
✓
Ethically made in Germany
✓
5-year warranty
---
Vibrating prostate butt plug
Five settings of vibration across all your hotspots
Curves against the p-spot and perineum, for amped-up orgasms
Wear it during partner sex for toe-curling sensation
Flexible and comfortable
Removable bullet vibrator
Product Specs

SPECIFICATION
VALUE / DESCRIPTION

 Type

Prostate Vibrator

 Power

Rechargeable

Movement

2 speeds & 3 patterns

Dimensions

6.58 in and Ø 1.46 in

Insertable length: 4.92 in

Weight

0.31 lb

Battery Life

45-90 minutes

Charging Time

2 hours

Materials

Body-safe materials, non-porous and hypoallergenic
Shipping

FUN FACTORY CANADA Ships with Canada Post. Orders go out at 2PM PST time. If you place your order through the week before 2PM we will try our hardest to send it out that day.

Canada Post does not process orders over the weekend. Therefore orders placed on Friday after 3PM until Sunday 12:00AM will go out on Monday when Canada Post starts processing orders again.

$9.99 Shipping on all orders under $39.99
FREE Shipping on orders over $39.99
Shipped with Canada Post

For more information, check the Shipping Information page.
Share
View full details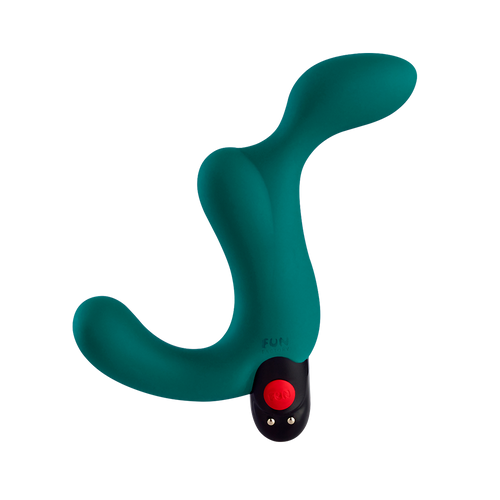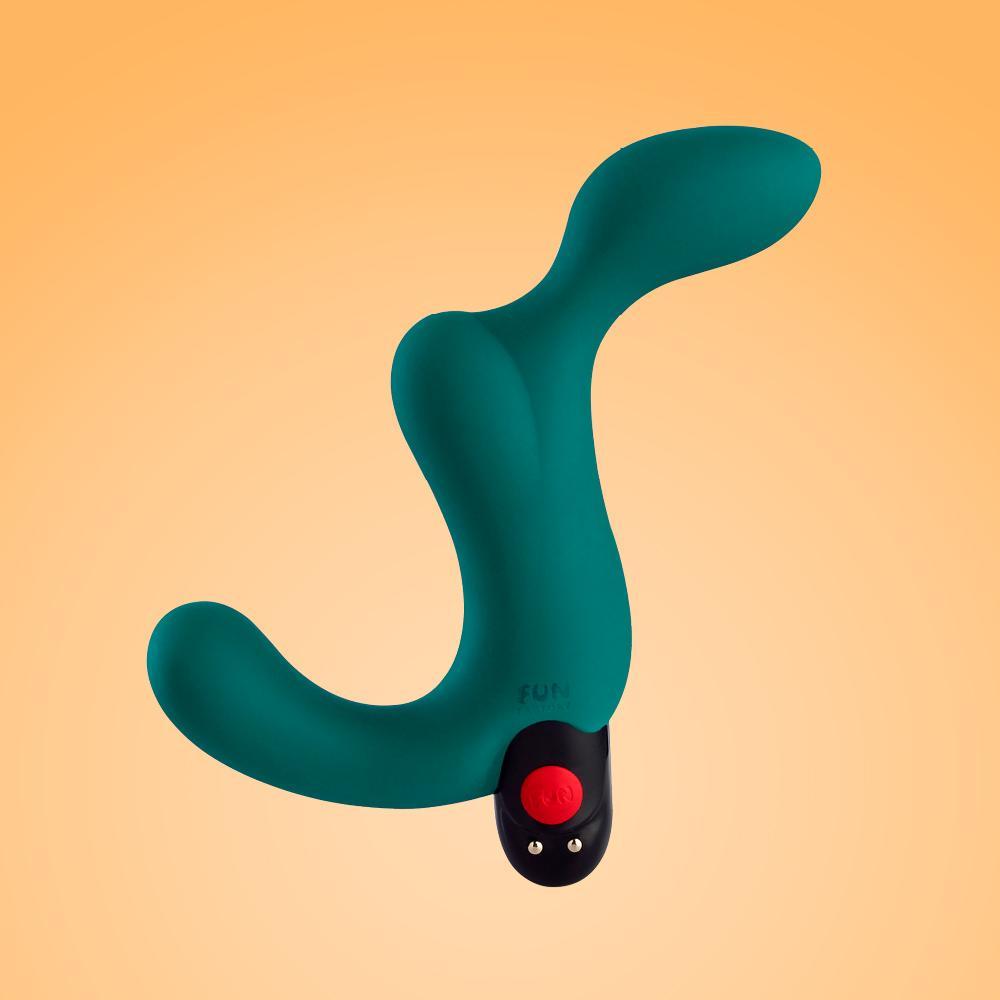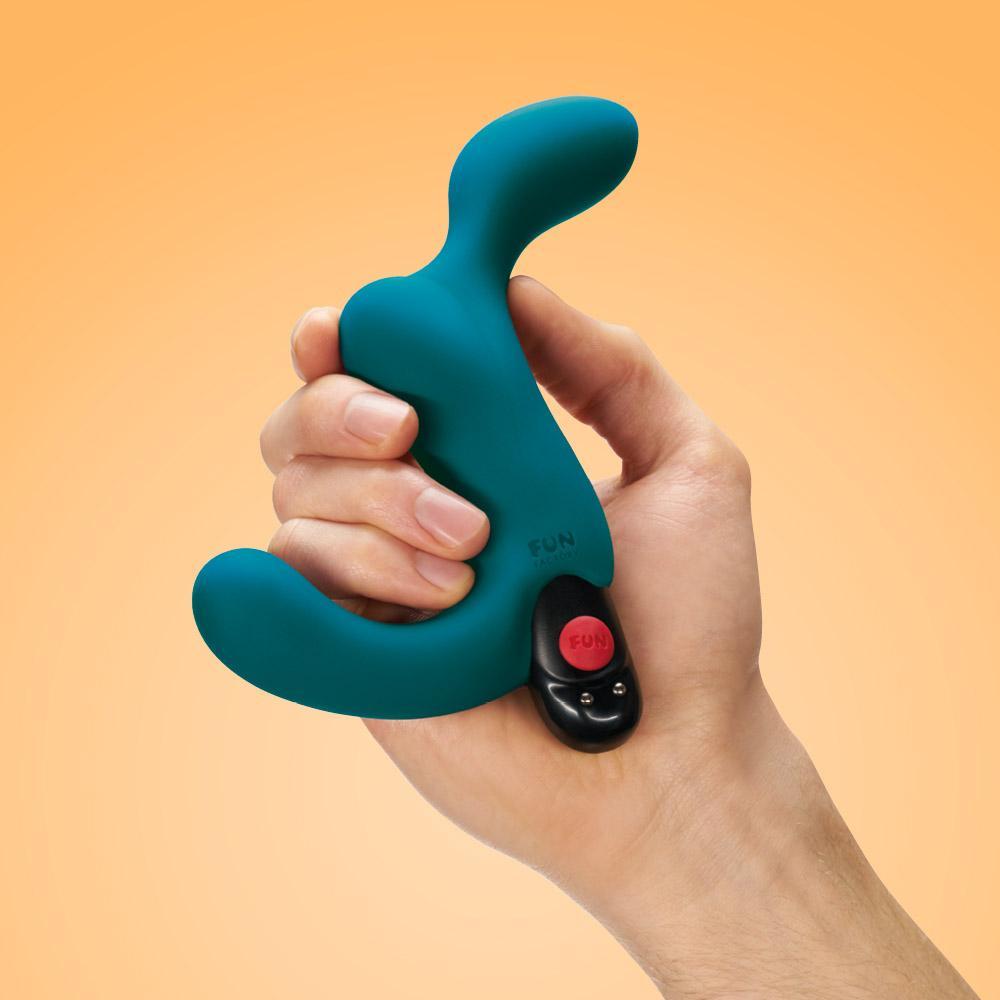 A PROSTATE BUTT PLUG THAT VIBRATES
With the DUKE, you get two toys in one: a prostate butt plug that fits your body perfectly and hugs your perineum and a removable 5-setting vibrator.
WHAT MAKES THIS PROSTATE VIBRATOR SPECIAL?
Did you know that your rectum (the fun few inches inside your butt) curves back toward your tailbone? That's why the DUKE is designed with a back-facing curve: the bump at the top of the central shaft hits your prostate, while that curved extension gives you a feeling of fullness that's tailored to your anatomy. It also angles the toy deeper into your prostate, for fuller orgasms. Oh yeah, and that extra section on the bottom? Vibrates your perineum, where there are lots of nerve endings. This is a next level butt toy.
TELL ME MORE ABOUT THE DUKE'S VIBRATOR!
The DUKE comes with our MASSAGE BULLET tucked inside the toy. It offers five flavors of vibration against your prostate and sensitive perineum. The removable waterproof bullet can also be popped out for a deep behind-the-balls massage or for teasing your partner.
CAN I WEAR THE DUKE DURING SEX WITH A PARTNER?
We encourage it! The prostate vibrator's base is nice and flexible, so you can easily roll around together, thrust, or change positions while wearing it.
IS THE DUKE EASY TO CLEAN?
It couldn't be easier. Warm water and unscented soap will do just fine. You can also take out the vibrator and boil it.
Yay
A zesty little treat. Happily satisfying for all.
Ultimate satisfaction
The finest rectal stimulator 'til' now!
Duke`
well... we were hoping this was going to be another way to stimulate the prostate but unfortunately this has not been the case. I lose my erection every single time we have tried. My gf and I will try anything but her finger remains the reigning champ with prostate milking
Much Better Than I had Expected
Before buying the Duke, I had looked though many of the reviews here and elsewhere. I say many of the reviews that complained about the Duke falling out and other such issues. I ended up buying it anyway since the general consensus was positive.
I have not had any issues with the Duke staying in place. The vibe that comes with it certainly could be stronger, but it is still more powerful than most of the none-wand vibes I have seen. I would have to agree with other that the Duke is probably not going to do much for experienced people. Someone with good knowledge of their body will most likely be able to hit the right spots more effectively themselves than the Duke can. It is still a convenient option none the less.
After using it I would also not say it would be the best toy for someone just starting out either. While the circumference is reasonably small at any given point, some sections will still be too big for some people that are very new. This will also be affected greatly by the angle used when inserting.
I would say the Duke is the best fit for people that have low-to-moderate experience with anal toys. Someone that has already used small-to-medium sized toys will likely not have any trouble inserting it. The Duke definitely provided an enjoyable sensation for me and would be fairly easy to insert for this type of person. I would also say that the Duke would be good for people that haven't intentionally tried prostate play before.
As for the Build of the toy itself; I would say that it is good quality. The silicone piece of the toy is made from a very good quality silicone. This is especially useful for people that have multiple partners that they want to use it with as it can be sterilized (make sure to follow the directions for that part).
The vibrator is of decent quality in my opinion. It is made from a hard plastic and is sturdy, but also has some of the issues associated with plastic. For example, the seam where the pieces are combined is pretty rough though less rough than a cheap plastic vibe. This does not have any real downsides when using it, but I do find it visually and texturally unpleasant when cleaning it. This also makes it harder to sterilize on top of the fact that it is plastic. Personally I wish they would use a metal construction for the vibe as that would have a better texture and be easier to clean thoroughly. I also think that a metal design might dampen the vibrations less than plastic does. The controls for the vibe are pretty standard, so there is nothing of note in that regard.
Overall, the Duke is a much better quality toy than many of the super cheap toys that are around, but also wasn't some kind of life changing product. I'm not sure why some people expect some thing like this to be life changing but I figured I would make note of that to temper some people's expectations.
Hopefully the detail here can help you make the right choice. Even though I have other toys that I prefer; I still have zero regrets in purchasing the Duke and expect to get a good amount of use out it.
It's Great!
Having experimented with several anal toys, this is by far my favorite! Would leave more stars if I could. The design really does push against the prostate better than other toys and with the multiple vibe settings on the bullet, it easy to find what works and keep the fun cumming and cumming.