XL Vibrator
Regular price
$194.99 CAD
Regular price
Sale price
$194.99 CAD
Unit price
per
AWARD-WINNING
Save $-194.99
Not Available
---
✓
Free and
discreet
shipping
✓
Ethically made in Germany
✓
5-year warranty
---
A big-yet-approachable vibe
Super-strong, bass-tone vibration

Realistic design & G-spotting ridge

Extra long and girthy

Flexible shaft lets you move freely

Looped handle is easy to hold

Rare, soothing Amethyst color
Product Specs

SPECIFICATION
VALUE / DESCRIPTION

Type

XL Vibrator

Power

Rechargeable (with charging level indicator)

Movement

6 speeds & 6 patterns 

Dimensions

9.25 in and Ø 1.06-1.77 in

Insertable length: 6.5 in

Weight

0.75 lb

Battery Life

40 - 120 minutes

Charging Time

6 - 8 hours

Materials

Body-safe materials, non-porous and hypoallergenic
Shipping

FUN FACTORY CANADA Ships with Canada Post. Orders go out at 2PM PST time. If you place your order through the week before 2PM we will try our hardest to send it out that day.

Canada Post does not process orders over the weekend. Therefore orders placed on Friday after 3PM until Sunday 12:00AM will go out on Monday when Canada Post starts processing orders again.

$9.99 Shipping on all orders under $39.99
FREE Shipping on orders over $39.99
Shipped with Canada Post

For more information, check the Shipping Information page.
Share
View full details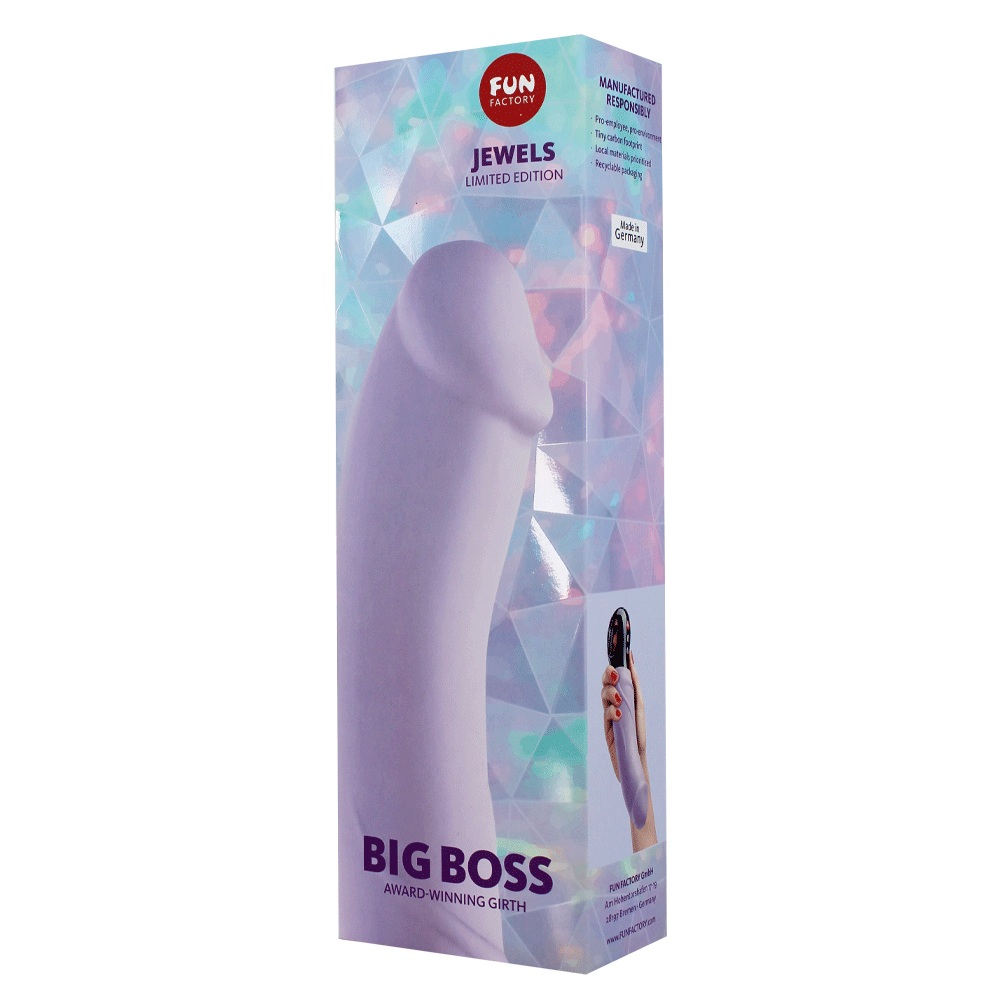 A Giant Vibe in a Semiprecious Shade
Size queens, look no further: This toy's combination of length, girth, and flexibility have made it a bestseller for years!
WHAT'S UNIQUE ABOUT BIG BOSS?
As you already know, it's pretty darn big, with 6.5 inches of insertable length. It's also 1.77 inches across at its widest point. So, yeah. You're going to feel full. You're also going to feel comfortable, because this toy is endowed with FlexiFUN Technology™, meaning the shaft is flexible throughout.
SO, IT'S JUST A REALLY BIG VIBRATING PENIS?
It's not "just" a really big vibrating penis! Realistic as the shape is, we've also optimized a couple features. The pronounced head is perfect for stroking the G-spot, and the veins along the shaft deliver a light internal massage.
WHAT'S THE LOOP HANDLE ALL ABOUT?
The loop handle is easy to grasp, even if you have lube hands. Ditto the raised buttons, which you can feel in the dark to switch up the vibrations in a snap.
Fun Factory Jewels
Five bestselling, award-winning toys that represent the best of our brand. We're celebrating their success by releasing them in regal, gemlike colors—which happen to be gender-neutral—as part of a limited-edition line. Our Jewels come in special opalescent packaging that's luxurious and ultra-giftable. Find your favorite, and your toy will have an exceptional look to match its exceptional performance.
So amazing!
I love the girth of this king! Ahh feels so amaz8ng
Even bigger than the big boss dildo
So I already had the big boss dildo and opted to add this to my collection as I wanted the little loop for better accessibility (vibrators aren't my thing). I was (pleasantly) surprised that this was even larger than the dildo! Highly recommend for those size queens/kings/royalty out there! It has nice give/squish which makes it a great first larger toy.
Accurate name for this toy!
This thing is BIG. Not like "cervix ramming" big but it's a good size! Perfect, honestly.
It is a bit soft though. You can bend the toy which makes it kinda hard to insert, and hard to apply pressure to the clitoris. I should have read all of the information more because I didn't realize the flexibility until I got it!!
Quality product otherwise!
Jewels Big Boss
I just want to start by saying the Big Boss is my favorite toy. I first heard of Fun Factory at my local sex store when my husband purchased the Tiger for me. We also looked at the Big Boss, but at the time I thought it looked very intimating, but very sexy too. I love how it's super soft and flexible. The veins running down the shaft just add to the sexiness of this toy. I decided to go with the Tiger and love it especially because of it's ridges. Next, I decided to look at FF's website to look more into the Big Boss. Wow, they do have amazing products and I love all the ones I own. While searching, I read more about the Big Boss, I thought I must have this one. I went back to my local shop to purchase it and it is a game changer. The super-soft silicone feels so good inside of me and its length and girth is what makes this toy so wonderful. The lavender color is so sexy. It reminds me of cotton candy. It is huge and has a soft, huge head which I absolutely love and the vibrations are so intense. I love how this guy opens me up and stretches me out. My favorite way to use the Big Boss is to start out with a lot of lube, have my husband slowly insert it and go in and out slowly with it all while lying on my back. When I'm closer to orgasm I love for him to start thrusting it very quickly and hard. It generates a friction inside of my vaginal walls and makes me super wet and even more horny for him. After I cum, it feels so wonderful when taking it out as its long shaft rubs against my walls and swollen inner lips. Yes, my inner lips do swell up using the Big Boss as well as my clit. It hits everything because of its girth. I also had my first vaginal orgasm with the Big Boss so this toy is very special to me. So, if you're thinking about getting one, just go and get it. It's the best. FF, please make a Big Boss 2.