Realistic Pulsator
Regular price
$179.99 CAD
Regular price
$224.99 CAD
Sale price
$179.99 CAD
Unit price
per
Save $45
Not Available
---
✓
Free and
discreet
shipping
✓
Ethically made in Germany
✓
5-year warranty
---
Realistic thrusting toy
Hands-free thrusting and pulsation

Realistic shape with superhuman stamina
Lightly tapered shaft for a more comfortable glide
Massages the internal clitoris for better orgasms
Very quiet—no more distractions
Product Specs

SPECIFICATION
VALUE / DESCRIPTION

 Type

Realistic Pulsator

 Power

Rechargeable (with low battery warning)

Movement

7 speeds & 3 patterns

Dimensions

7.87 in and Ø 1.42 in

Insertable length: 5.51 in

Weight

0.67 lb

Battery Life

40 - 120 minutes

Charging Time

8 hours

Materials

Body-safe materials, non-porous and hypoallergenic
Shipping

FUN FACTORY CANADA Ships with Canada Post. Orders go out at 2PM PST time. If you place your order through the week before 2PM we will try our hardest to send it out that day.

Canada Post does not process orders over the weekend. Therefore orders placed on Friday after 3PM until Sunday 12:00AM will go out on Monday when Canada Post starts processing orders again.

$9.99 Shipping on all orders under $39.99
FREE Shipping on orders over $39.99
Shipped with Canada Post

For more information, check the Shipping Information page.
Share
View full details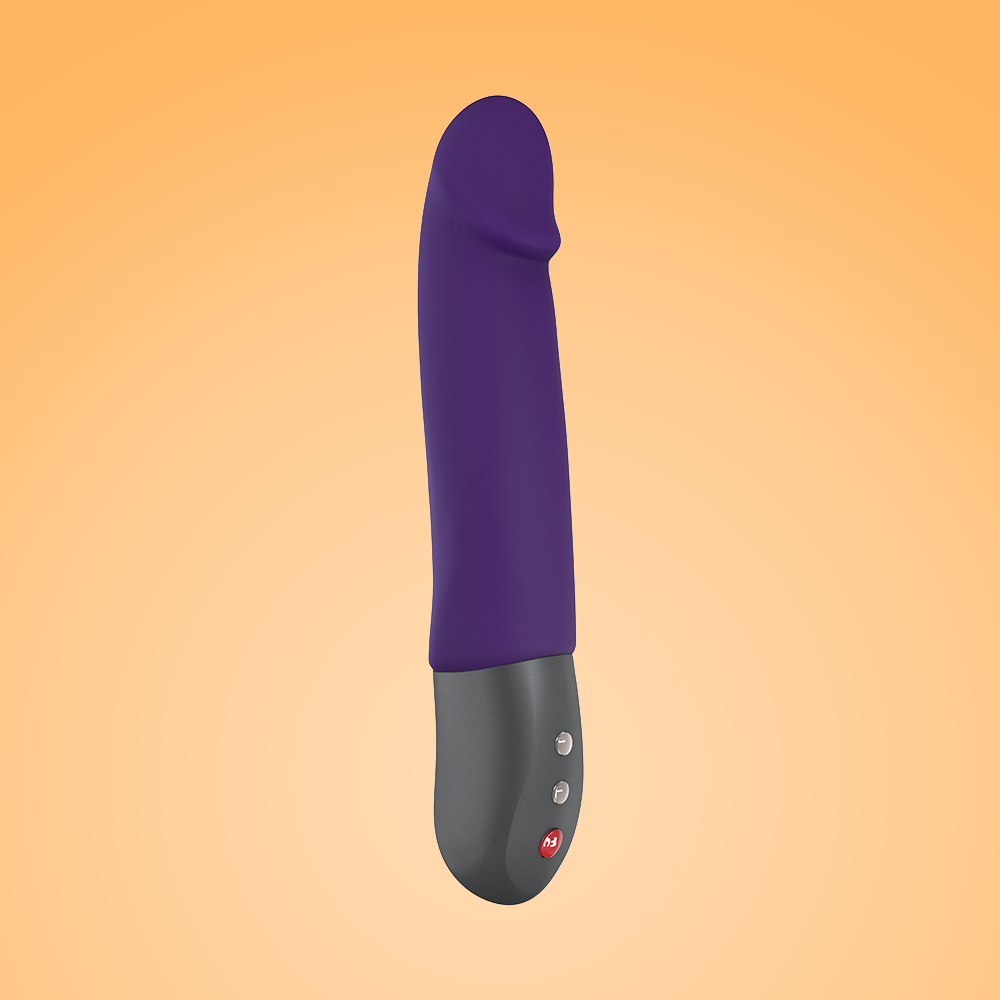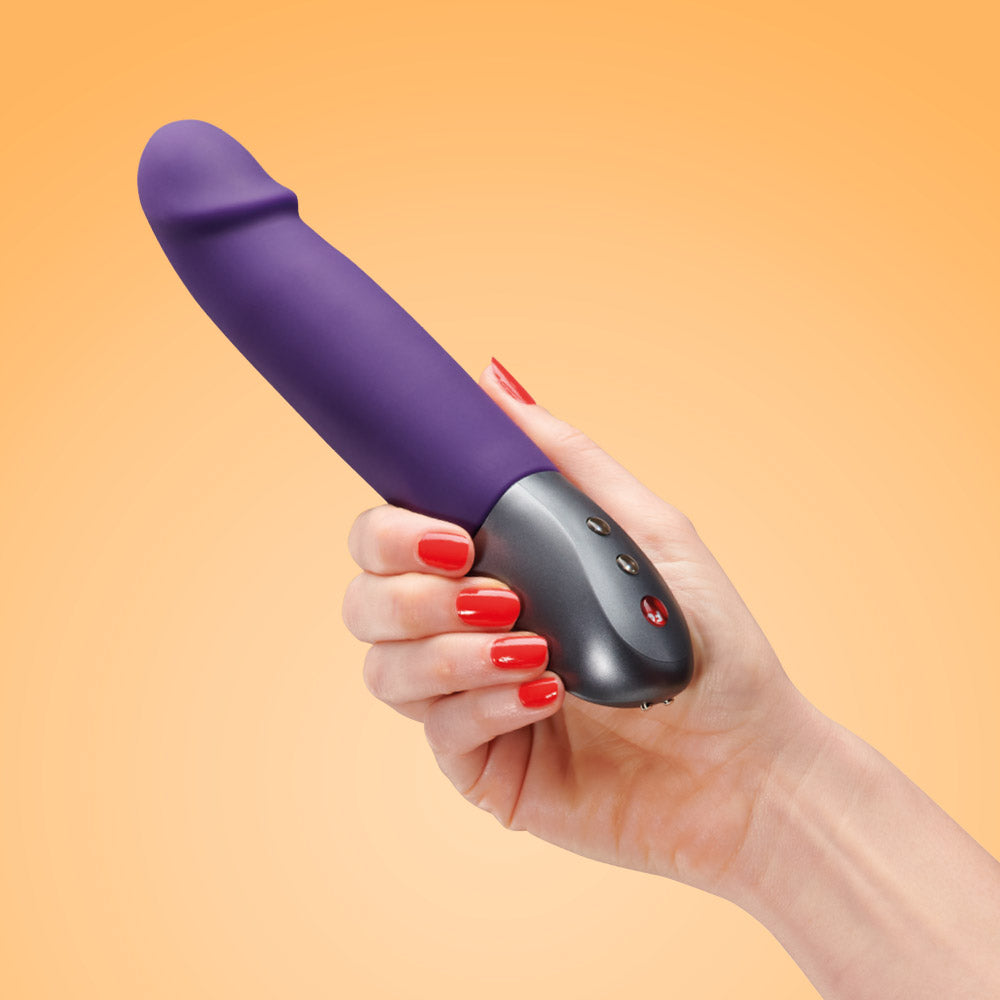 Realistic Thrusting Dildo
Have sex whenever you want, however you want it, for as long as you want it. The STRONIC REAL gives you the realistic shape and thrusting motion you crave, plus incredible stamina (up to two hours on a single charge!) and a variety of speeds and pulsation patterns to choose from.
HOW IS THE STRONIC REAL DIFFERENT FROM A VIBRATOR?
This toy doesn't vibrate: it thrusts and pulses, hands-free.
WHAT MAKES THIS REALISTIC THRUSTING DILDO SPECIAL?
With the STRONIC REAL, you get the feel of partner sex on your schedule, however you want it. Want to warm up with some slow pulsing motion then build up to reliable, rapid thrusts? You got it. Want to be surprised with an arousal-building pulsation pattern? Just press a couple of buttons. Choosing from 7 speeds and 3 rhythm settings is like getting to switch back and forth between an eager young stud and an experienced, creative lover at will. Plus, it has the stud's stamina: up to two hours of play on a single charge.
SOUNDS GOOD, BUT WHAT IF IT RUINS ME FOR SEX WITH MY PARTNER?
That won't happen! Using a pulsator daily has been found to increase blood flow and sensitivity in the vagina. If anything, you'll enjoy sex with your partner more!
Alright
Real enough, but nothing too special. The in and out action is interesting. I should have gone with a more fun option.
Very Expensive
Unbelievable product but Expensive.
Handheld happiness
This is my second Fun Factory product and I love it! It is the perfect size, length and weight for me and hits the spot every time. I purchased mine during the start of the pandemic and it has been an absolute joy since I spent/still spend so much time solo. The pink colour makes me happy and I highly recommend it for everyone. Pro tip: lots of lube will bring your sessions next level. Happy New Year!
More cons than pros, but enjoyable on occasion.
(2.75/5 stars). This is my first Fun Factory toy. It's well-made, unique, and can give me a good time. I just have to be in a very specific, extra patient, ultra-turned-on mood for it. Like, humping the floor like a wild animal levels of turned on.
Let's get the negatives out of the way first.
The texture is the biggest turnoff for me. The draggiest silicone I've ever felt. Hurts like hell if I don't apply copious amounts of lube. Not a few extra pumps— I mean at least double the amount minimum. Not to mention every little piece of lint, dust, and pet hair sticks to it like glue. It's the worst thing about it.
The charging. Dear Lord. The charging. It takes eight hours for a full charge. Not being hyperbolic. That's the actual number. And the battery doesn't last that long on mine at all. Probably because I like the faster settings. The toy's buttons and charger itself glow when plugged in. So when I put it down to charge overnight, it's an unwelcome night-light. Kind of annoying.
The rigidity of the shaft is inevitable, but it makes it pretty uncomfortable if I use it for too long.
Now for the positives.
Most mind-blowing combo I've found is using an air pulsator (Womanizer, Satisfyer, or that one TikTok rose toy) at the same time. Overwhelms my senses a bit, but that's exactly what I need sometimes. Nonstop internal pounding and clit-sucking at the same time is as heavenly as it sounds.
I'm a virgin, so this is the closest I've gotten to actual penetrative sex. Sorry to my future partners who probably won't be able to go at the pace this thing is capable of.
It's completely waterproof. I clean it without getting paranoid that I'm frying it (RIP my Velvet Thruster that didn't survive the Cleaning Session Tragedy of 2019). I don't use toys in the bath or God forbid a pool, so that's the only purpose the waterproofness serves in my case.
As nice as it can be if I'm in the right mood, I'm glad I got it when it was on sale for $120. Still a little more than I'd be willing to spend if I had tried it out beforehand (in some fantasy world where that's not insanely unhygienic), but $170 is borderline ridiculous for how many things it needs to improve on.