Pulse Vibe
Regular price
$249.00 CAD
Regular price
Sale price
$249.00 CAD
Unit price
per
THRUSTS & VIBRATES
Save $-249
Not Available
---
✓
Free and
discreet
shipping
✓
Ethically made in Germany
✓
5-year warranty
---
Pulsing and thrusting vibrator
New technology for instant arousal and fuller orgasms
Zingy or rumbling vibration, stroking, fluttering, hands-free thrusting, and more
Stimulates nerve endings other vibrators can't, for new sensations
Curated combination settings, so you can lie back and enjoy
Super quiet for zero distractions
Product Specs

SPECIFICATION
VALUE / DESCRIPTION

Type

Pulse Vibe

Power

Rechargeable (with low battery warning)

Movement

11 patterns & 4 rhythms

Dimensions

6.9 in and Ø 1.4 in

Insertable length: 4.53 in

Weight

0.73 lb

Battery Life

1 - 3 hours

Charging Time

5 hours

Materials

Body-safe materials, non-porous and hypoallergenic
Shipping

FUN FACTORY CANADA Ships with Canada Post. Orders go out at 2PM PST time. If you place your order through the week before 2PM we will try our hardest to send it out that day.

Canada Post does not process orders over the weekend. Therefore orders placed on Friday after 3PM until Sunday 12:00AM will go out on Monday when Canada Post starts processing orders again.

$9.99 Shipping on all orders under $39.99
FREE Shipping on orders over $39.99
Shipped with Canada Post

For more information, check the Shipping Information page.
Share
View full details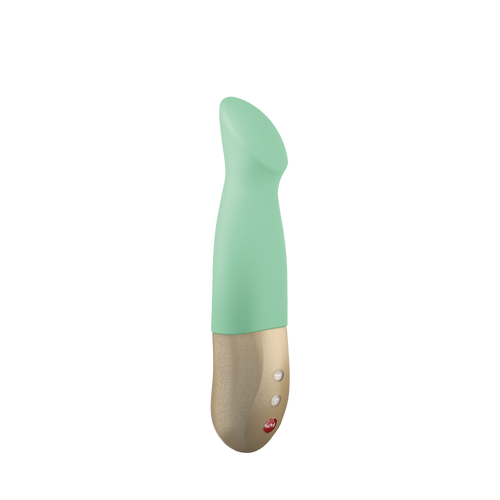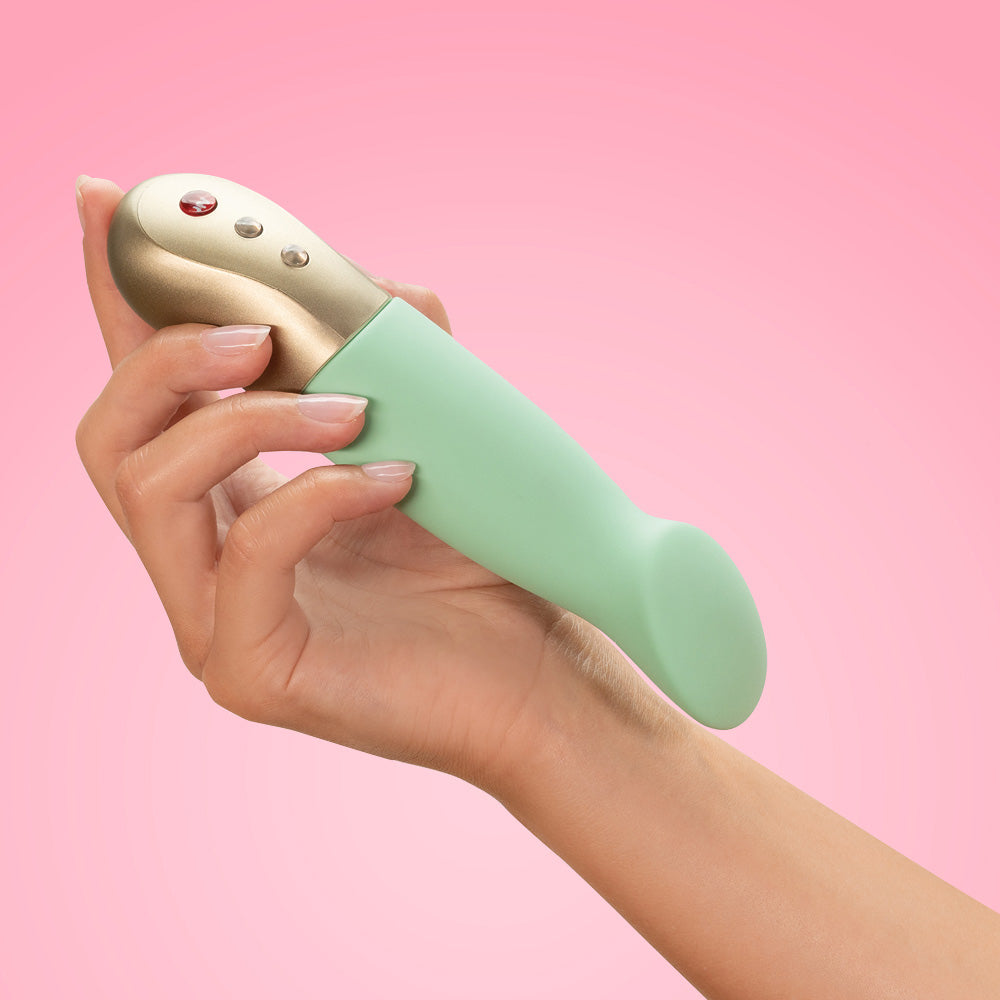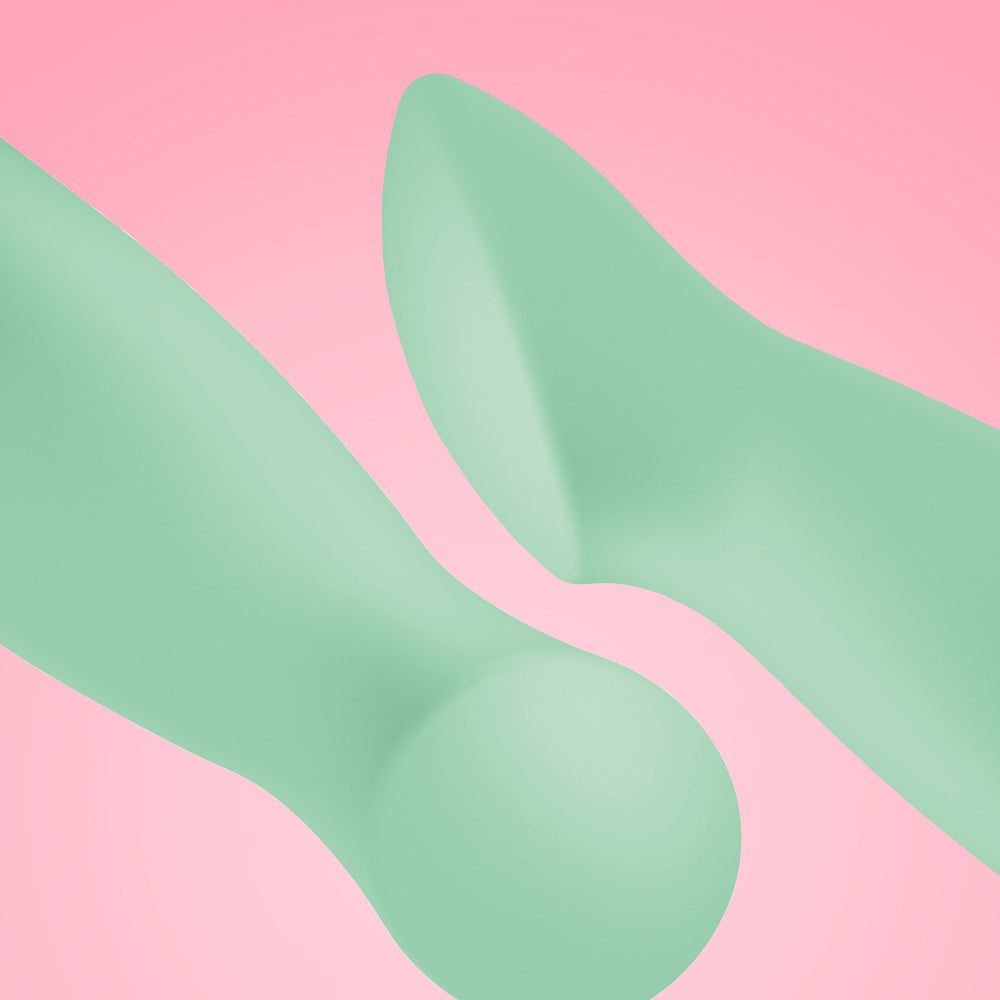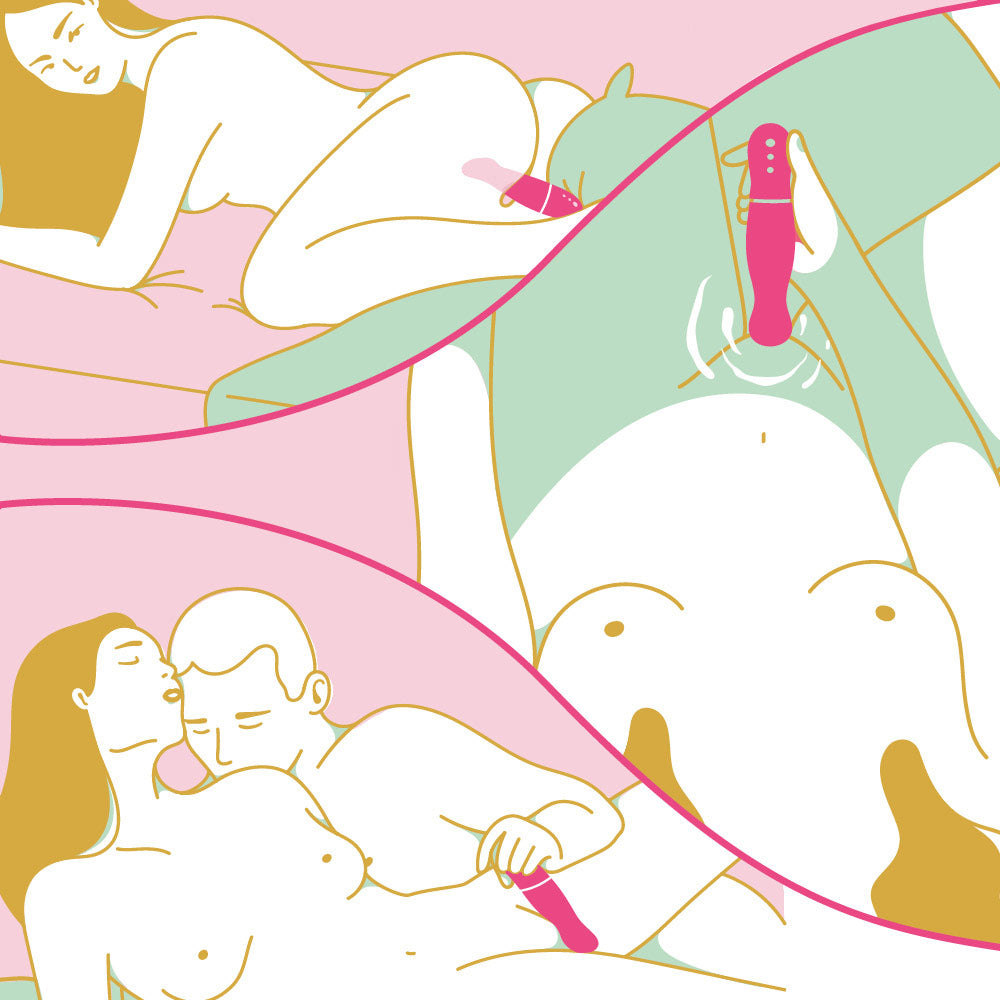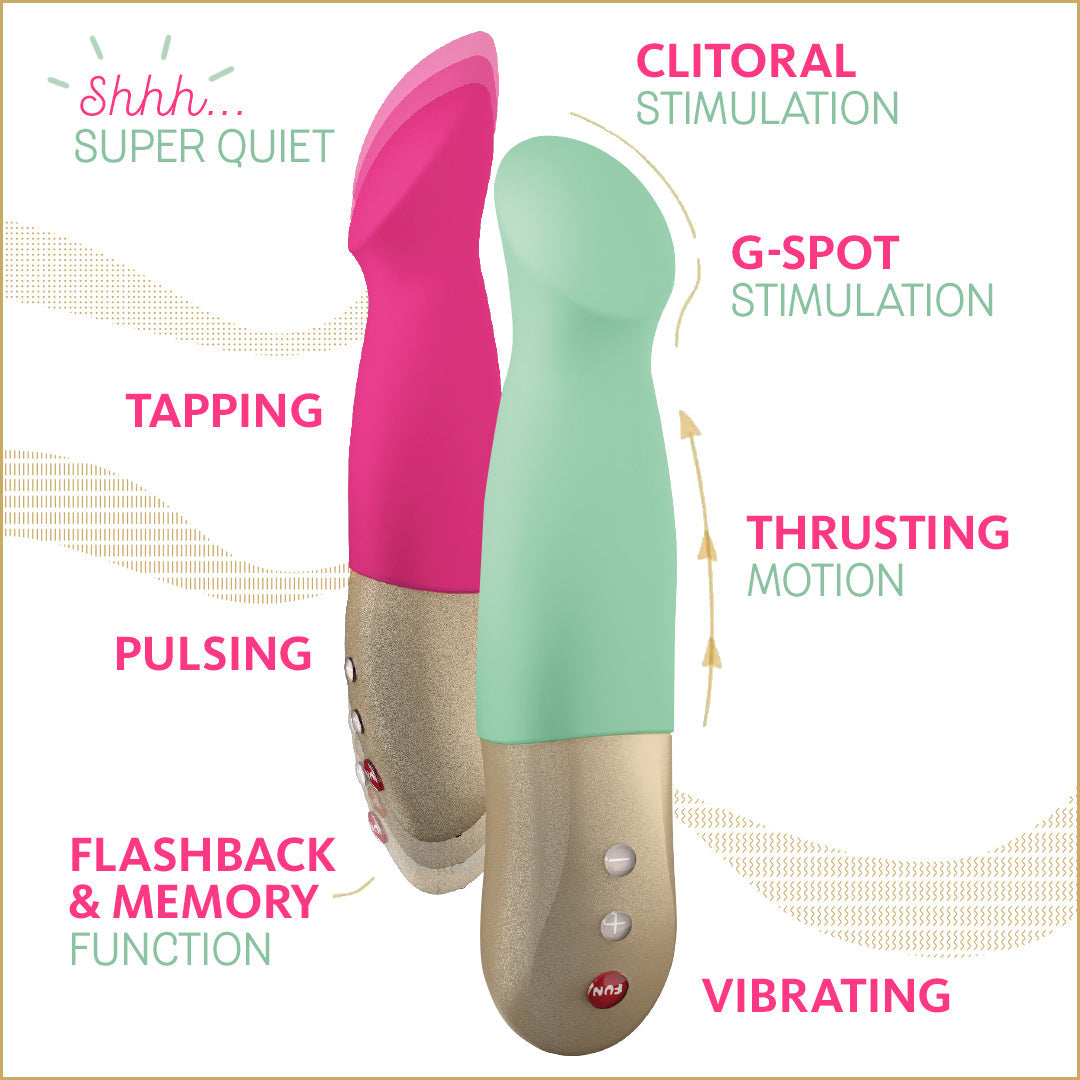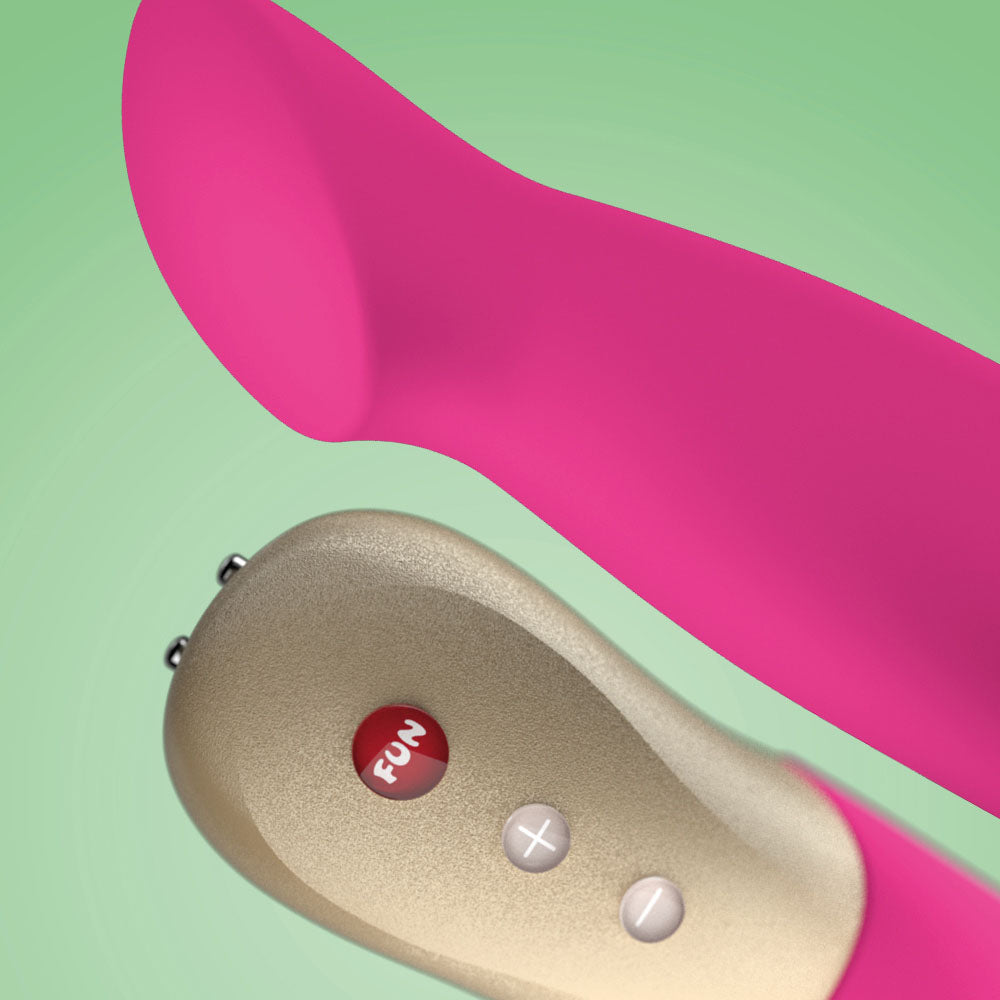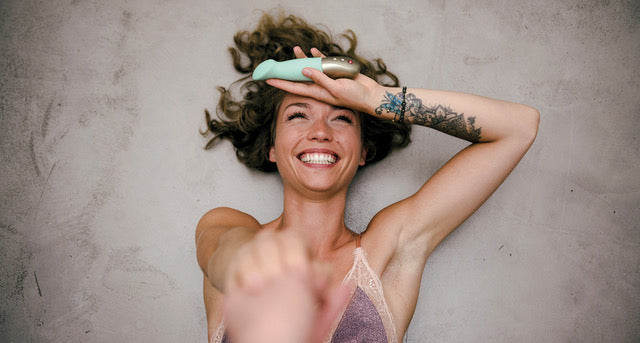 NOT YOUR EVERYDAY ORGASM
What does your perfect Sunday look like? Getting a nice slow start, lingering over brunch, maybe doing the crossword? Spending the afternoon doing something that's just for you? In a nutshell, SUNDAZE is that leisurely Sunday afternoon play date. There are no agendas, just pure pleasure and discovery.
HIT THE RIGHT NERVE
Most vibrators only stimulate one kind of nerve ending. SUNDAZE stimulates three. Different nerve endings process different kinds of sensation—and SUNDAZE offers a lot of those. Plus, alternating between different types of sensation keeps you from becoming habituated to just one. Meet the nerve endings SUNDAZE reaches.
MERKEL'S DISKS

Respond to light touch, like the tapping settings of SUNDAZE.

PACINIAN CORPUSCLES

Detect pressure and vibration, i.e. SUNDAZE's first three settings.

RUFFINI ENDINGS

Feel when skin moves and stretches. Use the pulsation settings for these!
DESIGN & COLOR
This toy's simple, elegant shape transmits vibration from base to tip while being smooth enough to move up and down, no matter how you're using it. Try setting the broad surface against the clit or switch to the tip for more intense sensation. Choose fuchsia pink for a feeling of freshness and vitality or creamy pistachio to relax into the pleasure.
- FUN FACTORY Design Team
SPEND THE DAY IN BED
"Sundaze" is that feeling of relaxation and openness that you get on long, lazy Sunday afternoons. The first time we felt the SUNDAZE vibe, we knew that's what we had to call it. With fifteen varied sensations to choose from, this toy just begs to be played with for hours at a time, while you explore every possible way to make yourself feel awesome.
WHAT MAKES SUNDAZE SPECIAL?
It's not just a vibrator: it's a Pulse Vibe. SUNDAZE uses patented new technology to move not just from zingy to rumbling vibration, but also to light tapping that turns you on like nothing else, pulsing and stroking motions, and hands-free thrusting for internal or external massage. This thrusting vibrator is good for sensitive people and also for power lovers, a combination you hardly ever see. You've literally never felt anything like it before, and it feels freaking amazing.
As a bonus, you can save your favorite arousal setting, so SUNDAZE starts with it every time, and if you accidentally turn the toy off during play, just turn it back on within 15 seconds to return to the same setting.
WILL ALL THOSE NEW SENSATIONS MAKE ME DEPENDENT ON THE SUNDAZE?
Quite the opposite! Vibrators aren't inherently habit-forming; it's just that people tend to use them the same way, on the same setting, over and over again, every single time. This pulsating vibrator gives you so many ways to play, with so many different kinds of sensations, that you're in no danger of habituating your body to the toy. In fact, SUNDAZE's arousal-boosting settings prime your body to feel good in any way you want, with or without the toy! After using it, sex with a partner actually feels more intense, not less.
CAN I USE THIS THRUSTING VIBRATOR WITH A PARTNER?
Absolutely! SUNDAZE is an especially great toy for someone who wants to get turned on more easily with a partner or who's noticed a change in their arousal due to age or stress. Try the tapping and pulsing settings, which help awaken your nerve endings and boost blood flow, making you feel more aroused and more sensitive.
My new favorite
I never tried a thrusting toy before, but figured I would probably like a vibrating and thrusting toy. I absolutely love this toy! It's nice that I can just either hold it in place or use a pillow and it thrusts on it's own so I don't have to irritate the tendonitis in my wrist. It's the perfect size for me; after my hysterectomy I tend to prefer smaller toys because I'm tighter and also have scar tissue. I generally have issues with orgasming with penetration, but this toy felt absolutely amazing! I will note that I had to give it a couple tries before I was able to fully relax and enjoy this toy because I wasn't sure what to expect at first.
(Be Patient)
At first, I was slightly underwhelmed. I felt like I wasn't getting the stimulation I would from any cheap vibrator.. but this is not a 'quickie' toy. Once I realized i wasn't really honoring the intended use of the SUNDAZE with my chaotic schedule, I warmed up to the idea of setting aside some relaxing 'me' time. Absolutely worth it!! Now I'm enjoying exploring the different settings, time permitting!
The Sensations Grow On You
Initially, I was disappointed -- I was looking forward to a toy that was both an intense vibrator and pulsator. While Sundaze will not get me off from it's gentle vibrations alone, the pulsations slowly grow on you in an incredibly pleasurable way. After experimenting and exploring patterns, I now love this quiet toy. A tip: The Sundaze really shines when you go hands free while simultaneously using a vibrator on your clit.