Water-Based Lube
Regular price
Sale price
$15.95 CAD
Unit price
per
Save $-15.95
Not Available
---
---
LIGHTWEIGHT LUBE THAT LASTS
Light, satiny texture feels like your own wetness

 

Non-sticky formula won't leave a residue

 

pH-balanced for a happy vagina

 

Condom- & toy-safe & water-based

 

Hyaluronic acid delivers long-term hydration

 

Anti-inflammatory pleasure tonic supports libido
Product Specs

SPECIFICATION
VALUE / DESCRIPTION

Type

Water-based lube

Quantity

2 oz - 8 oz

Ingredients

Aqua, Propanediol* (botanical source), Hyaluronic Acid (botanical source), Nelumbo Nucifera Root Extract* (Lotus Root), Oat Beta-Glucan*, Gluconolactone*, Sodium Benzoate*

*Eco-Certified Ingredients
Shipping

FUN FACTORY CANADA Ships with Canada Post. Orders go out at 2PM PST time. If you place your order through the week before 2PM we will try our hardest to send it out that day.

Canada Post does not process orders over the weekend. Therefore orders placed on Friday after 3PM until Sunday 12:00AM will go out on Monday when Canada Post starts processing orders again.

$9.99 Shipping on all orders under $39.99
FREE Shipping on orders over $39.99
Shipped with Canada Post

For more information, check the Shipping Information page.
Share
View full details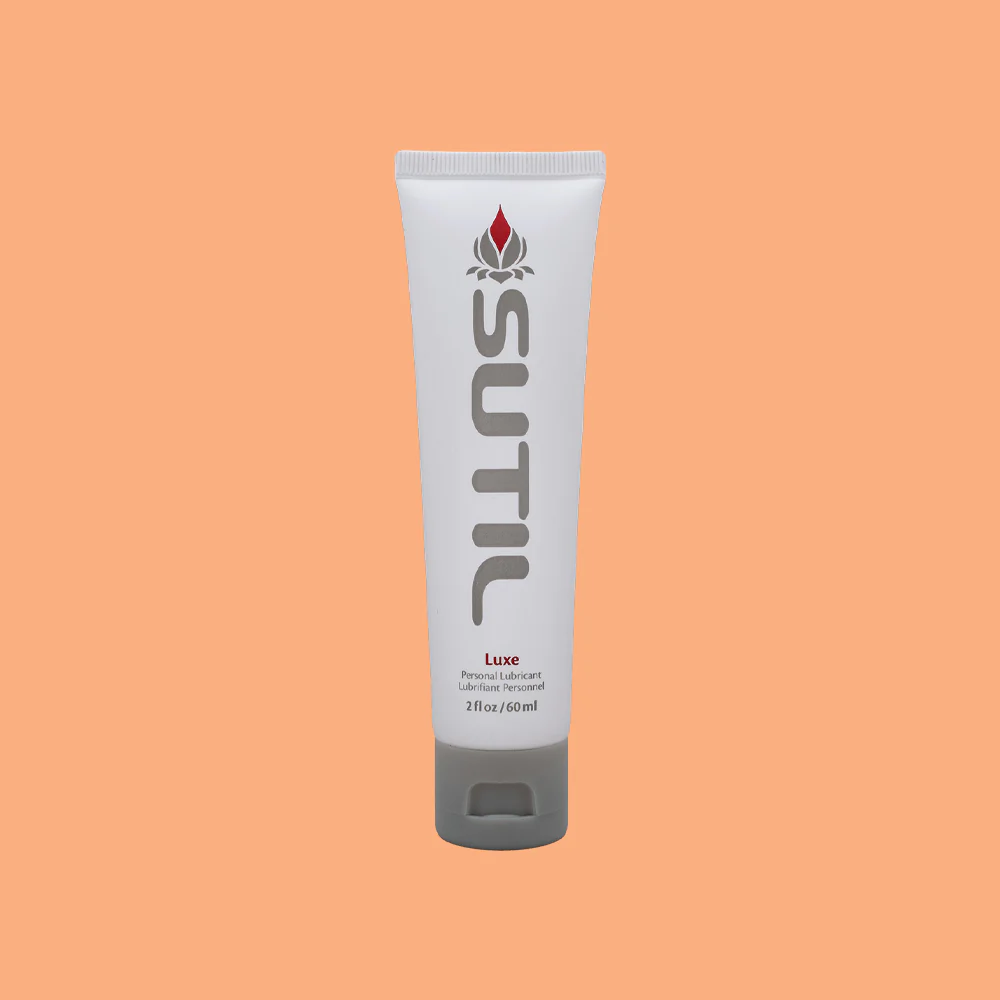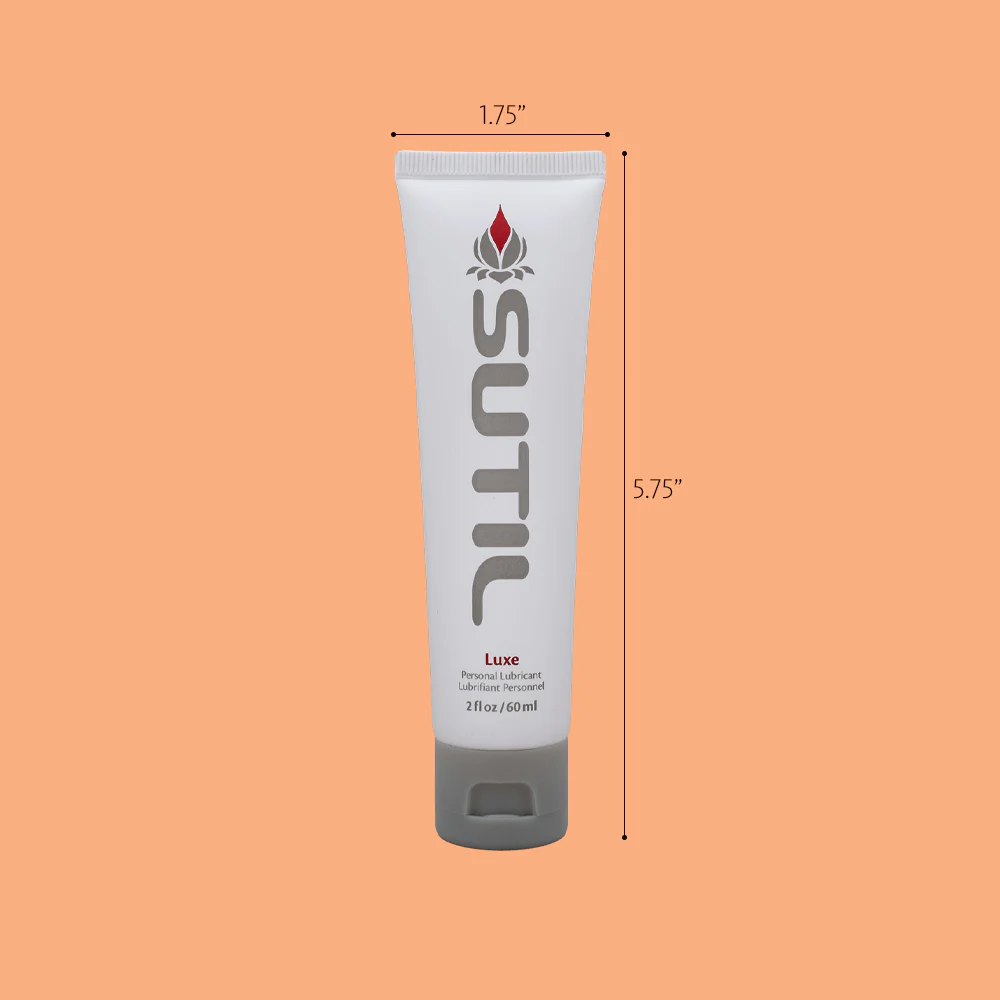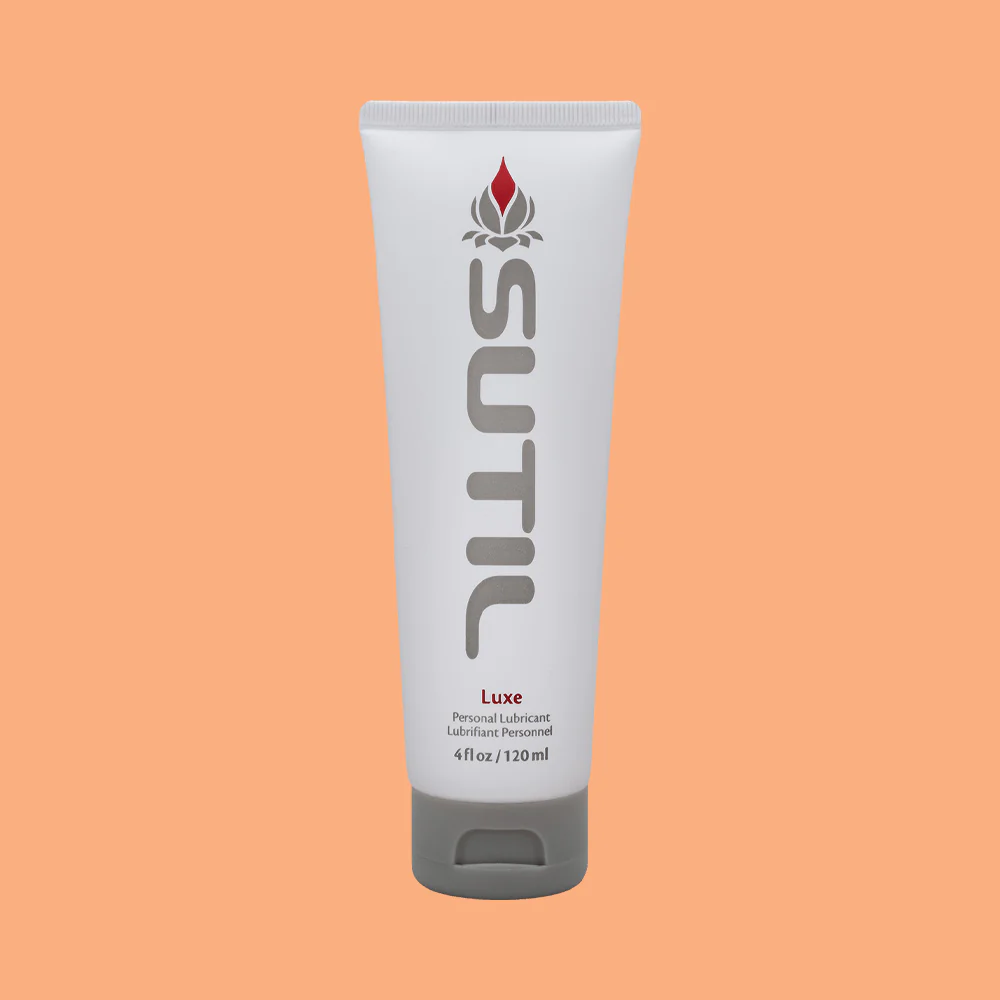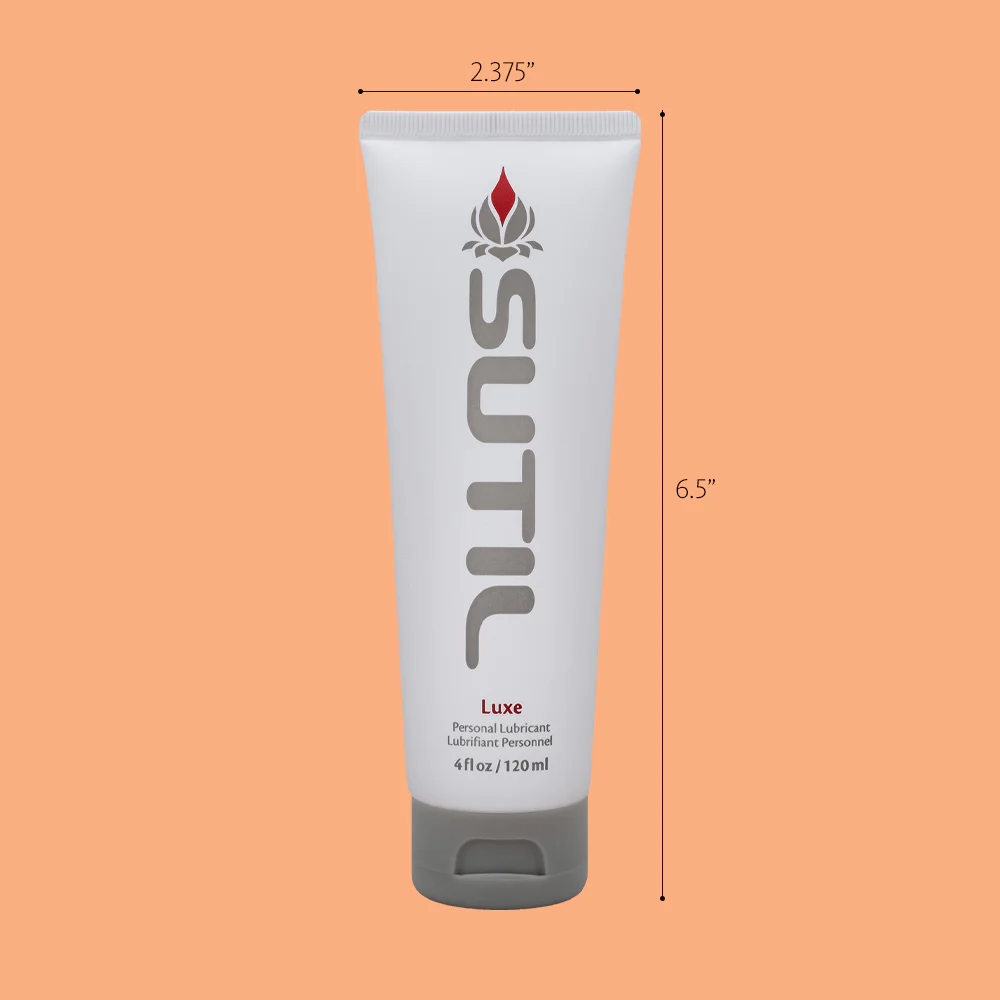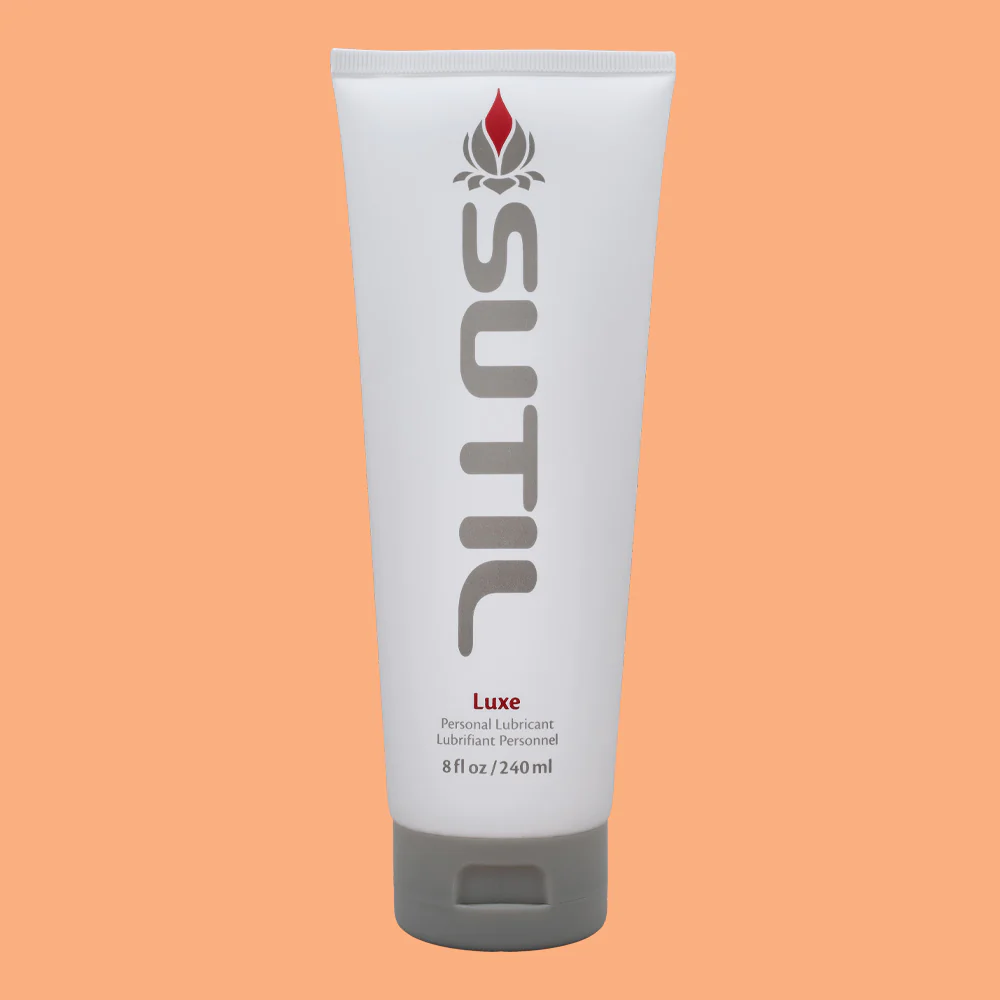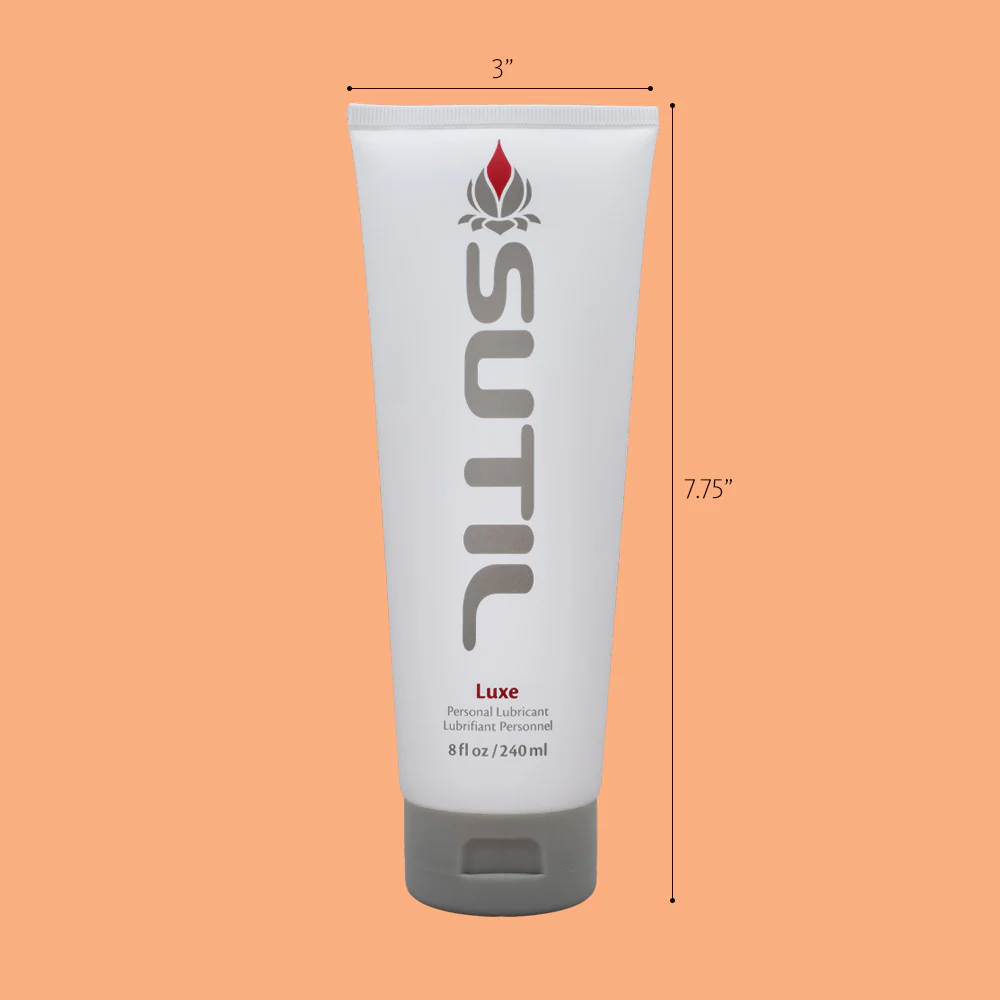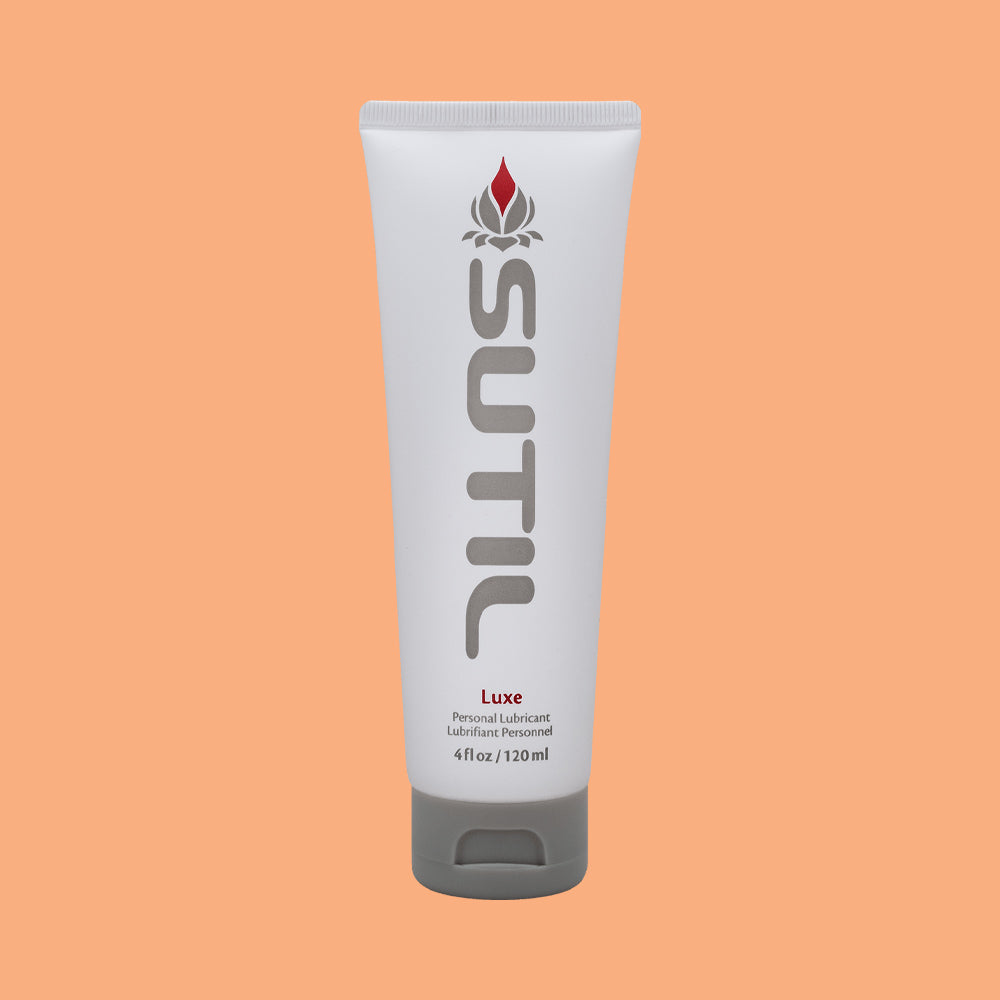 BETTER INGREDIENTS. BETTER LUBE.
Hyaluronic Acid
This ultra-hydrating compound is naturally produced in the body to make your skin and joints supple. In Luxe, it has the same benefit, replenishing the moisture in your body's tissues. It also has a cumulative effect.
Oat Beta-Glucan
Made from Canadian oats, this ingredient gives Luxe its slippery texture. Oat beta-glucan is intensely hydrating, and it's especially effective when used with hyaluronic acid.
Lotus Root
This natural soother targets inflammation in the body. It's full of good-for-you flavonoids and, used topically, it supports a healthy microflora.
YOUR SUPER-SMOOTH, GO-TO LUBE
Luxe is SUTIL's recommended lube for most people with vaginas. It has a lightweight feel and ultra-hydrating ingredients, so it's comfortable enough to forget.
CONVINCE ME TO USE LUBE.
Okay, you asked! Lube is useful in all sorts of play, whether solo or partnered, and whether between young bucks or senior citizens. It's necessary for anal, or for times when you might start with cunnilingus before moving on to penetration. Vaginal moisture can also fluctuate during a person's menstrual cycle, or because of stress. You get the picture.
WHO SHOULD USE LUXE?
Almost everyone, really. Its lightweight texture feels comfy and disappears into your play. The formula is non-irritating and long-lasting, plays well with toys and condoms, and doesn't feel sticky. Bonus: It won't leave a residue behind.
OKAY, BUT IS THIS REALLY ANY DIFFERENT THAN A DRUGSTORE LUBE?
It is actually so different. Like, worlds apart. The cheap stuff turns a lot of people off lube. It's often chemical-smelling (and -tasting), sticky, irritating, and even infection-inducing. SUTIL is the opposite of all that. It's made of sustainably sourced, minimally processed ingredients that actually add to your play.
WHAT EXACTLY ARE ECOCERT INGREDIENTS?
Ecocert is a certifying body that testifies to an ingredient's safety and approves socially and environmentally conscious production practices. Many of SUTIL's ingredients have received the COSMOS certification from Ecocert.
WHY IS HYALURONIC ACID SO IMPORTANT?
It's a no-fail hydrator, that's why! Because the body produces it naturally, it's extremely well-tolerated, even among sensitive folks. The compound holds over 1,000 times its weight in water, meaning it can hydrate tissues from within and produces a silky feel on the outside. You might even use SUTIL lubes with hyaluronic acid (Rich and Luxe) like a daily supplement for the vagina.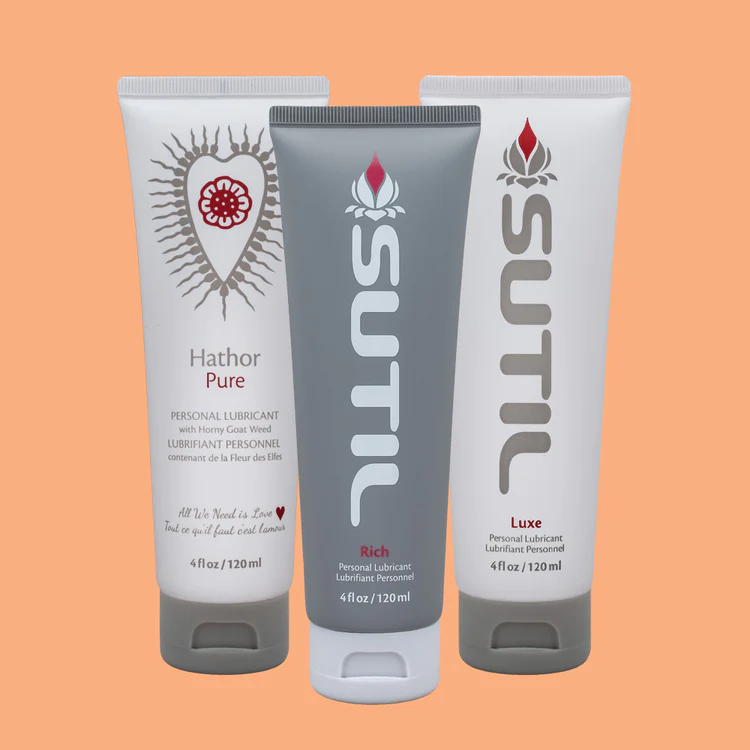 FUN FACTORY ♥ SUTIL
As sex industry pros, the team at FUN FACTORY has seen a lot of lube. Trust us when we say that SUTIL is the best. Since 2000, the family-owned company has been manufacturing its products ethically in Canada, so they're maximally safe for you and the environment. SUTIL lube is FDA-cleared, vegan, and condom- and toy-safe. They've turned thousands of lube skeptics into evangelists with their non-irritating, slick formulas. Try their lube, and see why.
MORE ABOUT SUTIL
Sutil Luxe personal libricant
Haven't used it a lot at this point in time. Seems to get dry fairly quickly and to me seems a little runny. Also, don't care for that tube packaging - squirts out as you try to recap it and will leak out if not snapped down completely . All in all I do like the feel of it and will of course use it all up.
Solid in the moment, got sticky
Great dispenser, felt slick during sex even through an extended play session. Unfortunately both of us felt pretty sticky afterwards and needed to spend extra time cleaning up from it. Not bad, but definitely not the perfect lube for us.
Lasts forever
This lube lasts for such a long time compared to other water-based lubes. It's also so nice that it doesn't feel sticky, and when it dries it doesn't have a weird flaky residue. My personal holy grail for lubes tbh.
Best lube ever
I'll never use another lube! Sutil Luxe is my absolute go-to, it has such a great light consistency and doesn't get sticky and lasts a long time. Plus I love the company's values and commitment to high-quality ingredients.